Announcement: brownbag lunch July 13, 2006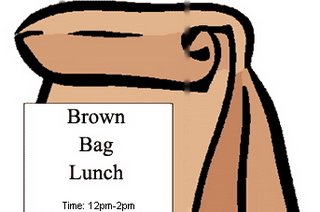 Brown Bag Lunch at CPTech July 13, 2006
So many bad bills, so little time... but summer is good to find out more about a good bill status.
Alliance for Taxpayer Access: "Every year, the federal government funds tens of billions of dollars in basic and applied research. Most of this funding is concentrated within 11 departments/agencies (e.g., National Institutes of Health (NIH), National Science Foundation (NSF), Department of Energy). The research results typically are reported in articles published in a wide variety of academic journals. From NIH funding alone, it is estimated that about 65,000 papers are published each year.
Because U.S. taxpayers underwrite this research, they have a right to expect that its dissemination and use will be maximized, and that they themselves will have access to it. If this information is shared with all potential users, it will advance science and improve the lives and welfare of people of the United States and the world."
Heather Joseph
(ARL-SPARC) has kindly agreed to brief us on the latest on the the Federal Research Public Access Act of 2006. As you may know, the bill would require agencies with annual research budgets of more than $100 million to implement a public access policy granting faster access to research supported by the US government. There are efforts to push to get a House companion introduced in the next couple of weeks - before the August recess if possible and many other plans.
Public meeting Thursday July 13 (brown bag lunch: bring your lunch, we'll have drinks)
12 to 2pm
CPTech's office
1621 Connecticut Ave NW, Suite 500
Contact Manon.ress@cptech.org or 202 332 2670 for questions
TEXT of bill:
http://thomas.loc.gov/cgi-bin/thomas

More at:
http://www.arl.org/sparc/
http://www.taxpayeraccess.org/frpaa/